Summary
This article will describe how to setup and run a Marshall test with the Elite/5000 series equipment. This example is intended for the HM-5020 and HM-5030 equipment.
Please make sure the equipment firmware is up to date. Update instructions can be found here.
Procedure
From the home screen select the menu button ().
Select NEW TEST.
The test setup wizard will open.
TYPE Tab
Select MARSHALL test type.
Click next.
IMAGE A: TYPE tab
TEST INPUTS Tab
Check the inputs that will be used for testing.
Check the USE TARE option for each input used in step 1.
Click next.
IMAGE B: TEST INPUTS tab
MOTOR Tab
Select MOTOR CONTROL.
Direct is UP.
Enter SPEED of 2 in/min (50.8 mm/mm if in SI).
Seating load is zero.
Check RETURN HOME if the motor should reverse after testing.
Click next.
IMAGE C: MOTOR tab
Logging Tab
Select LINEAR TIME INTERVAL.
Enter LOGGING VALUE of 0.1 sec.
Click next.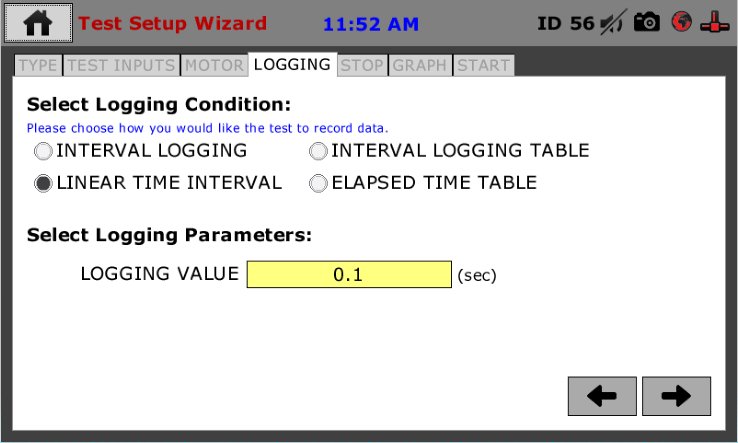 IMAGE D: LOGGING tab
STOP Tab
Select PERCENT STRESS DROP.
STOP INPUT should be LOAD.
Enter the desired percentage of load peak drop in STOP VALUE.
Click next.
IMAGE E: STOP tab
GRAPH Tab (Optional)
Select the LOAD input for the X Axis.
Select the DISPLACEMENT input for the Y Axis.
Click next.
IMAGE F: GRAPH tab
START Tab
Select GREATER THAN.
TRIGGER INPUT should be LOAD.
TRIGGER VALUE will be 10 lbf (0.044 kN if in SI) if input is TARED or CURRENT VALUE + 10 lbf (0.044 kN if in SI) if TARE is not used (It is recommended to use the tare option with this test). The USE TARE is set in step 2 of the TEST INPUTS Tab instructions.
TAKEN AT TRIGGER option should be checked.
Click the play button.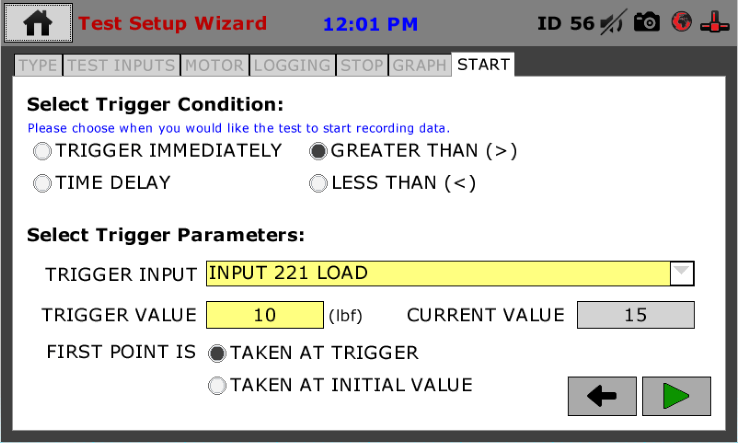 IMAGE G: START tab
At this point you will be prompted for a test name, please enter a name for the test and click OK. The test will begin and should complete.
Please Note: In this example input 1 was a 10000 lbf (50.8 kN) load cell. Your setup may be different. Please be sure to use the correct load cell for testing as failure to do sure could damage equipment/instrumentation.