Summary
The firmware for the 5000 series equipment can be updated from the machine with a firmware file and a USB stick.
Periodically Humboldt will release firmware updates to address issues or to add features to equipment. The firmware updates can be found at www.humboldtmfg.com.
Procedure
Open a web browser and navigate to www.humboldtmfg.com.
Select the Support tab followed by clicking on the Software Support icon.
Navigate to the bottom of the page and select the appropriate equipment type in Browse By Software Type
Insert a USB stick into your PC.
Click the link of the firmware you would like to download. To download you will need to login/create an account with Humboldt.
Save the file to your USB stick you inserted from step 4.
Safely eject the USB stick.
Insert the USB stick into the front USB port of the machine you are updating.
Click the menu button () on the face of the machine (Image A).
Select SYSTEM SETTINGS from the drop down menu.
Select UPDATE (Image B).
Select Update from USB (Image C).
Select the firmware file you downloaded from step 5 from the file selection screen.
After selecting the file press the Select button on the file selection screen.
The update process will begin. The update process can take a few minutes and you can see the machine reboot a number of times.
After the update process completes you can verify the update was successful by going to SYSTEM SETTINGS and clicking INFORMATION. Firmware version information is on this screen.
IMAGE A
IMAGE B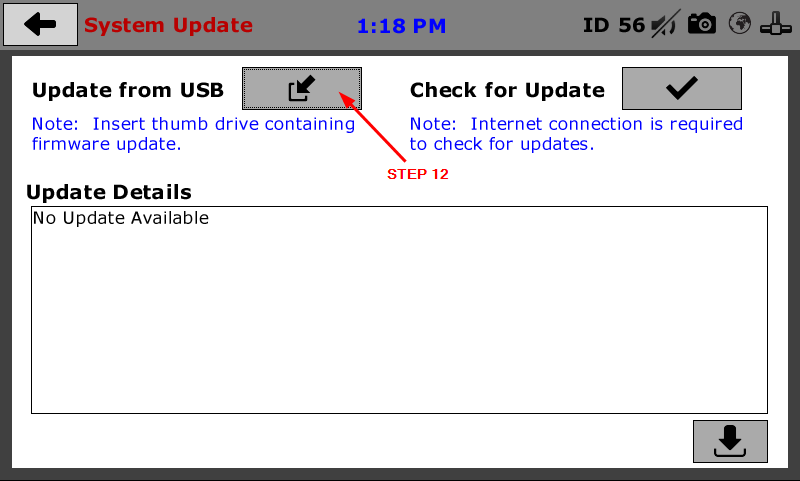 IMAGE C